SINGLE IGNITION – THE ULTIMATE FINALE SHOW BOX 3
(GF-JW4087)
SINGLE IGNITION – THE ULTIMATE FINALE SHOW BOX 3
Noise Rating
4 - Loud Bangs
Safety Distance
25 Metres
Free Deliveryon all orders over £400 (exclusions apply)
Find out more
Click & Collectfor collection from our Nottingham store
Find out more
New for 2014. And what a find. This Spectacular 133 shot Single Ignition Finale Barrage is a "Gem"! read more
5 in stock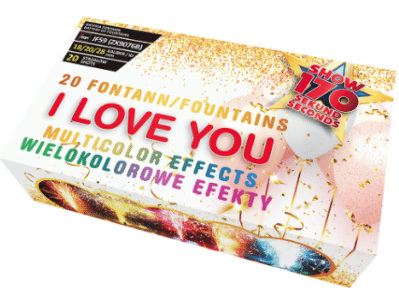 See all 1. Summer Party Fireworks products
The Show Box 3 Single Ignition Barrage certainly lives up to it's name! It's Big, it's Loud, it's Colourful and it's packed with all your "Favourite Special Effects!"
133 shots of sheer excitement lasting for over 1 minute. The opening sequence is Awesome, starting with a Rapid Fire of rising Rising Coloured Tails bursting with Titanium Salutes!!!
Next come graceful Green Strobes, followed by Red Strobes which fill the sky with Colour. Changing to a canopy of Crossette Breaks with everyones favourite Timed Rain Crackle Effect. A Mexican Wave of Green Coconut Palms and Green Mines leads to a Finale of Blue Tails and Crackling Blue Willow!!! Spectacular on it's own or as part of a"Bigger Show"!
Try it along with it's Big Brother…Showbox 4 for a no fuss Show Stopper Spectacular!!!
Pure Performance & Ease of Use
Single Ignition Firework
133 Shots
60 Seconds (1 Minute) Duration
Wide Variety of Effects
Ideal to use with Show Box 4 !!