The ULTIMATE Firework Display Pack
(GF-KIT008-23)
The ULTIMATE Firework Display Pack
Noise Rating
5 - Mega Loud
Safety Distance
25 Metres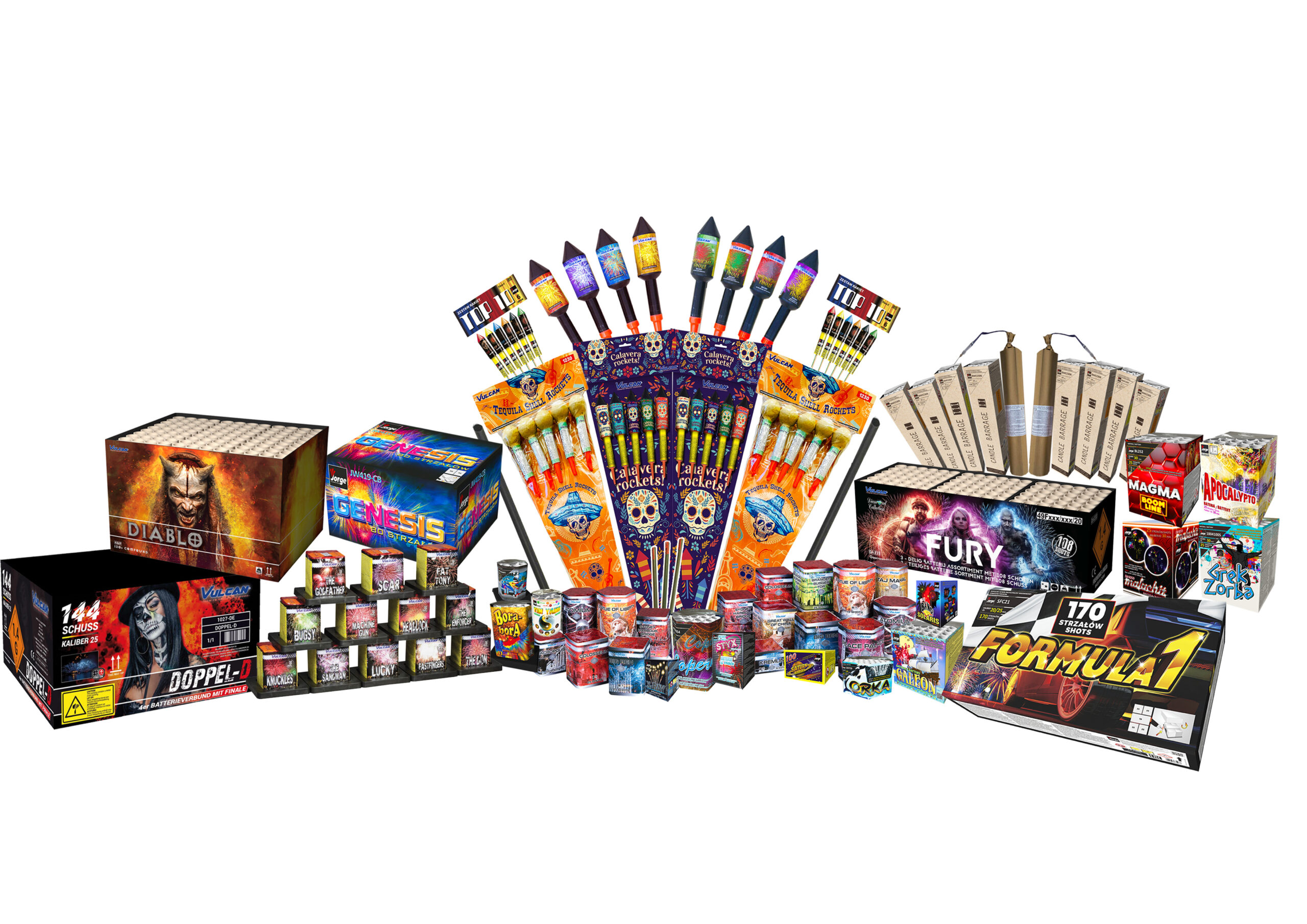 Free Deliveryon all orders over £400 (exclusions apply)
Find out more
Click & Collectfor collection from our Nottingham store
Find out more
By Popular Deamd !!.. We have introduced THE ULTIMATE Firework Display Pack… when you thought the Vanguard was the biggest.. we just made it Bigger !!… with the absolutely Jaw Dropping Jorge Formula Finale Cake and the Mind Blowing Diablo Finale Battery… read more
1 in stock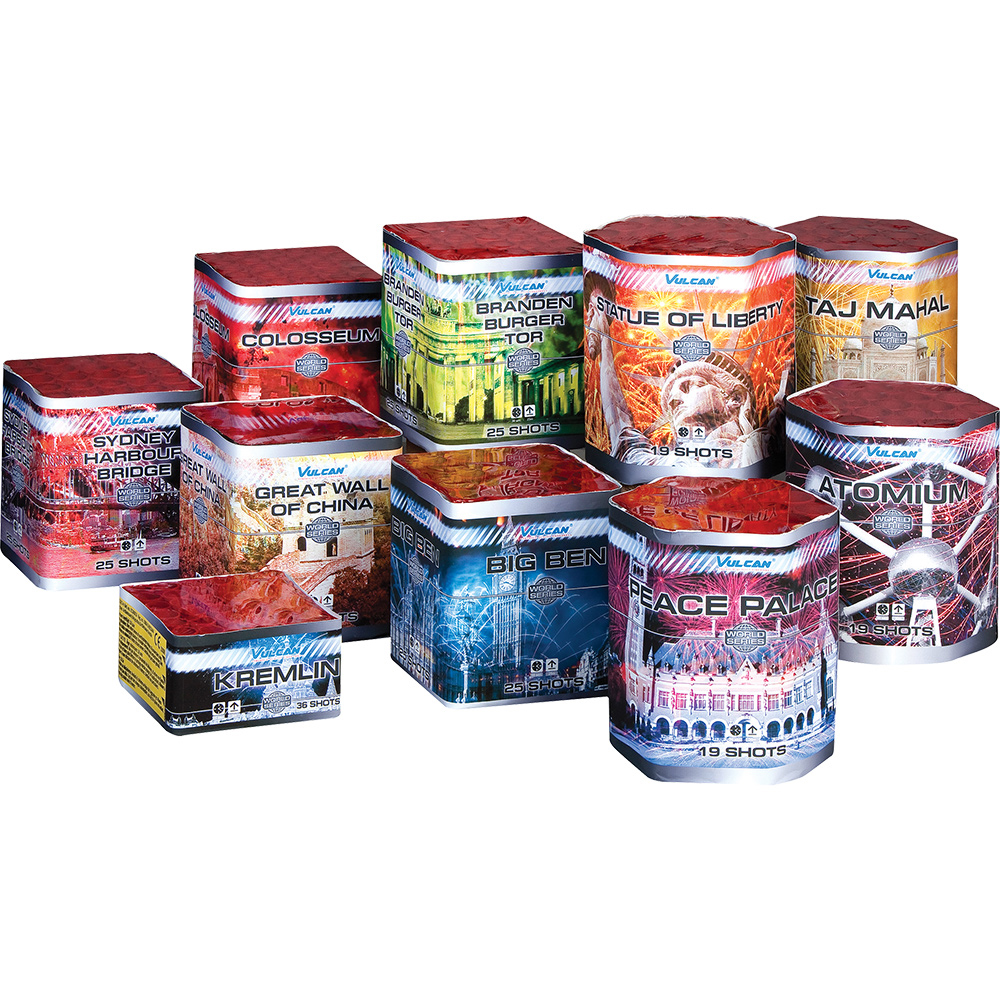 See all 10. Discounted Display Packs products
By Popular Deamd !!.. We have introduced THE ULTIMATE Firework Display Pack… when you thought the Vanguard was the biggest.. we just made it Bigger !!.. This year we have piled in the Vulcans Bad Boys Pack, a Jorge Formula One Display in a box, The Vulcan Fury 36s Cake Selection… and the Doppel-D Finale Barrage from Vulcan…as well as the enormous Vulcan Diablo Compound Finale Cake.
16s Solaris
36s Galeon Crossette Cake
16s STYX Battery
61s THOR Whistle Battery
10s Yin Yang Battery
7s Hi-Tec,
13s Bora Bora
25s X-Ray Battery
100s Saturn Missiles 100s Battery
19s Copernicus Barrage
4 x Large Cosmic Adventure Rockets
4 x Huge Midnight Finale Rockets
10 x Tequila Vulcan 65mm Ball-head Rockets
12 x Top 10 Rockets
10 x Calavera Vulcan Rocket
2 x Atomium 19s Cake Battery
1 x Taj Mahal 19s Cake Battery
2 x Peace Palace Cake Battery
1 x Acropolis 25s Cake Battery
1 x Big Ben 25s Cake Battery
1 x Colosseum 25s Cake Battery
1 x Sydney Harbour Bridge 25s Cake Battery
1 x Great Wall of China 25s Battery
1 x 36s Kremlin Cake Battery
3 x 14mm 96 shot Mighty Candle Barrage I
3 x 14mm 128 shot Large Candle Barrage II
2 x 12mm 90 shot Candle Barrage III
1 x 7x18mm Vulcan whistle Bundle
1 x 7x18mm Vulcan Red, White, Blue and crackle Bundle
3 x 36 Shot Fury Cake Batteries by Vulcan
1 X 25s Apocolypto Battery
1 X 25s Magma Battery
1 X 25s Great Zorba Battery
1 X 25s Malachit Battery
1 x 80s Gold Genesis Finale Compound Cake
12 x Bad Boys 16s Barrages
1 x Vulcan Doppel-D Compound Finale Cake
1 x Jorge Formula One Compound
1 x Vulcan Ultimate Diablo Finale Barrage 360 shots in Triple loaded Tubes
Portfires & Rocket Launchers.
Please Note We always do our best to pre pack as many kits as possible prior to the season, however stock can move and sell out very quickly. In the event that certain products become unavailable in one of our kits we do reserve the right to make suitable substitutions for an item(s) of at least the same RRP (Normal Retail Value) and of a similar type and/or effect. New image required 20/8/23
HUGE Display Pack
Brand New Vulcan Finale Cakes
Brand New Jorge Fanned Barrage
A huge variety of 25mm and 30mm Finale Barrages
Pallet Qty of Fireworks